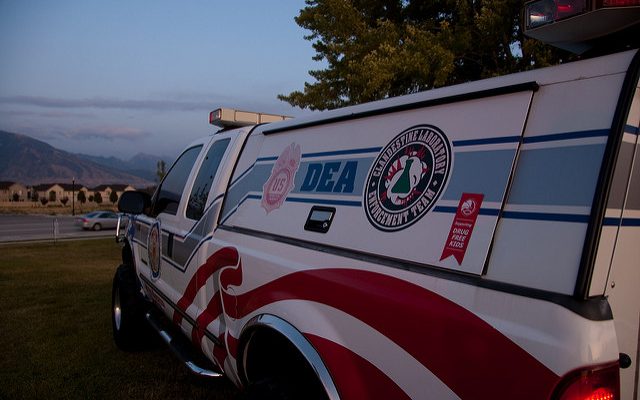 DEA Courtesy of Brett Neilson : License (CC BY 2.0)
Cannabis in America
CBD and Other Marijuana Extracts Made Illegal Under New DEA Code
By
|
The Drug Enforcement Agency (DEA) added a new code Wednesday to its Federal Register that reclassifies CBD oil and other marijuana extracts as Schedule 1 drugs. This effectively makes all forms of marijuana illegal under federal law, sending shockwaves throughout the cannabis industry.
In the announcement titled "Establishment of a New Drug Code for Marihuana Extract," the DEA created a new code for marijuana extract, which is defined as: "an extract containing one or more cannabinoids that has been derived from any plant of the genus Cannabis, other than the separated resin (whether crude or purified) obtained from the plant.''
According to the DEA, this code will allow the agency to track quantities of CBD and other marijuana extracts imported and exported to and from the U.S. separately from quantities of marijuana.
CBD, short for cannabidiol, is a natural cannabis compound that is useful for treating a number of medical conditions including epilepsy, anxiety, schizophrenia, and chronic pain. Unlike THC, CBD does not get you high. Despite this, it is now listed under the same classification of "hard drugs" as heroin, LSD, and bath salts.
Nate Bradley, executive director of the California Cannabis Industry Association, criticized the move in an interview with Westworld. Bradley called it another example of the government neglecting modern science, saying:
It's common knowledge that CBD has numerous medical uses, including curbing the effects of epilepsy and reducing muscle inflammation from injuries. To deny that shows a complete disregard for the facts.
The new classification has the possibility to interfere greatly with commerce in the growing medical CBD industry, leaving businesses that currently produce and sell the once-legal drug in a kind of legal limbo. It also opens up consumers and patients who rely on the non-psychoactive oil to possible criminal charges.
CBD is available nationwide, and as mentioned in our "State of Weed" coverage on marijuana legalization state by state, it is legal for select medical purposes in a number of states where neither medical nor recreational marijuana are legal.
Political commentators have speculated on the impact Senator Jeff Sessions (R-AL) could have on the cannabis industry if confirmed as Attorney General under the new Trump administration. Sessions has been an outspoken opponent of marijuana legalization, and could use his authority to enforce federal marijuana laws over state legislation.
The code will go into effect January 13, 2017.