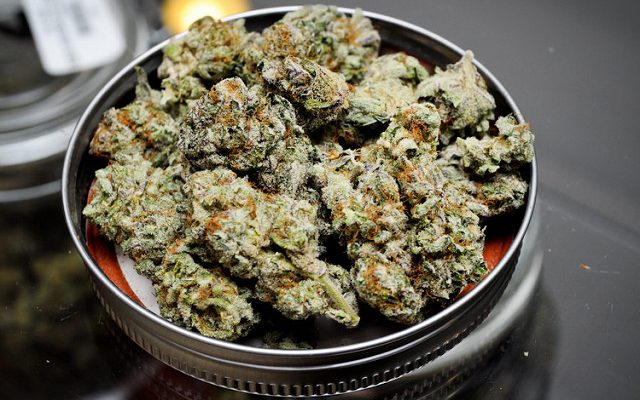 "Blackberry Kush, Indica" Courtesy of Dank Depot : License (CC BY 2.0)
.
Cannabis in America
Cannabis in America February 2017: Which State Will Be Next to Legalize?
By
|
All Cannabis in America coverage is written by Alexis Evans and Alec Siegel and brought to you by Law Street Media.
---
State of Weed: Watch
Maryland Lawmakers Push For Recreational Marijuana 
During a news conference last week, a trio of Democratic Maryland lawmakers said they would introduce two pieces of legislation: one to tax recreational marijuana sales, and another to regulate a legal market. The bills would regulate and tax marijuana like alcohol: use would be permitted for adults 21 and up, and it would be illegal to consume marijuana in public. Cultivators would pay a $30 per ounce excise tax, and there would be a 9 percent sales tax levied on retail products.
Will Rhode Island Reject Recreational Weed…Again?
After multiple failed attempts, Rhode Island could finally legalize recreational marijuana. State Representatives Scott Slater (D-Providence) and Joshua Miller (D-Providence) have proposed a new measure to legalize recreational marijuana for those 21 years and older. The Cannabis Regulation, Control, and Taxation Act will include mandatory product testing and labeling, restrictions on advertising, funding to law enforcement, limits on THC quantity per product, and mandatory reviews for all sale products.
Hawaii Approves First Two Medical Dispensaries 
After two years of waiting, Maui Wellness Group, d.b.a. Maui Grown Therapies, and Aloha Green Holdings on Oahu have been given the green light from the Hawaii State Department of Health to begin growing medical marijuana. The state legalized dispensaries in 2015, and sales were originally set to begin in July 2016. However, growers were still waiting on a seed-to-sale tracking system to be implemented, which stalled the approval.
All links are to primary sources. For more information on state laws for possessing, selling, and cultivating marijuana, click here to read "The State of Weed: Marijuana Legalization State by State."
---
Law Street Cannabis Coverage
Recreational Marijuana is Officially Legal in Maine
By Alec Siegel
After nearly three months of being suspended in legislative limbo, Maine's recreational marijuana bill officially went into effect on January 30. People 21 and older can now possess up to two and a half ounces of cannabis; they can also grow up to six mature plants, and 12 immature plants. But after Governor Paul LePage signed a moratorium on January 27, retail sales of marijuana will be frozen until February 2018, giving lawmakers time to close any loopholes that appeared in the original legalization measure.
Will New Mexico Legalize Recreational Marijuana Next?
By Alexis Evans
After several failed attempts, experts point to New Mexico as the next possible state to legalize recreational marijuana. Lawmakers are expected to introduce a new bill that would help rebound the state's lackluster economy with the help of marijuana tax revenue. On January 25, sponsors in both the house and senate announced their proposals for parallel marijuana bills that would include a 15 percent tax on sales.
Israeli Government Will Pay $2 Million to Fund Medical Cannabis Research
By Alec Siegel
Israel's Ministries of Agriculture and Health announced that they will be collaborating to pour over $2 million in state funds into medical cannabis research. It is the first collaborative effort between the two departments. The cash infusion is projected to fund 13 studies, which range from developing new medical cannabis strands to investigating the plant's effects on multiple sclerosis.
---
Three Questions: Exclusive Q&A
Each month, the Cannabis in America team interviews influencers in the cannabis industry and gives you an exclusive look into their work, motivations, and predictions for the marijuana marketplace. First up: Jackie Subeck. 
Subeck is the CEO of cannabis lifestyle brand Hey Jackpot, and the Vice Chair of the Women Grow Los Angeles chapter. In November, California passed a ballot measure to legalize recreational marijuana.  Alec Siegel spoke with Subeck to learn more about 2017 becoming "the year of local" cannabis. The following conversation has been edited and condensed for clarity.
AS: What attracted you to work in cannabis advocacy?
JS: [Cannabis] is such a fantastic plant, [with] what this plant is capable of doing worldwide to help humankind; I just wanted to learn more about that. My part is to get that information out there, spread the message, and work toward making it legal. I don't believe in prohibition.
AS: How will Prop 64 (California's marijuana legalization measure that was passed in November) impact your work with Women Grow Los Angeles?
JS: I'll spend more time educating people, and now that [Prop 64] passed, I'm able to learn what people are stuck on, what they're confused about, and what things are going to be really important moving forward when we talk about implementation of the law.
AS: What's next for cannabis in California?
JS: 2017 is the year of local, where 2016 was the year of the state. Now that things are passed in the state, the localities have to get in the game and start fixing up their city laws, writing ordinances, and figuring out reforms that make sense to them to work for them. It's really important that we get the implementation right.
---
Cannabis Culture
Two-Thirds of Cops Support Legalizing Marijuana in Some Form
By Alexis Evans
Like most Americans, a majority of police officers think that marijuana laws should be relaxed, according to a new survey from the Pew Research Center. Find out more here.