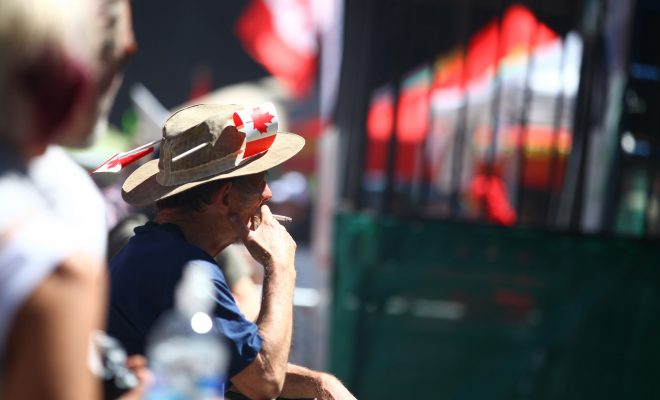 Image Courtesy of GoToVan; License: (CC BY 2.0)
Cannabis in America
Canada Set to Legalize Recreational Marijuana in July 2018
By
|
By the summer of 2018, recreational marijuana in Canada could be legal. Later this week, Parliament will take up a bill that would satisfy a popular campaign promise of Prime Minister Justin Trudeau's Liberal Party: legalizing recreational marijuana in Canada. Medical marijuana is already legal in the country. But some government officials think the target date for legalization, July 1, is too ambitious, and implementation is more likely to begin in 2019.
Details of the bill were reported by Canadian press outlets last week. The framework will largely follow the recommendations from a government-appointed task force. According to the bill, provinces will have a great deal of power in drafting the details of the legal framework. Provinces will determine the price of marijuana and how the drug would be distributed.
Federal officials will largely be responsible for issuing licenses and setting safety standards. Ottawa has set a minimum age limit of 18, but the provinces can increase that threshold if they choose. And in regard to homegrown cannabis, residents would be allowed to cultivate up to four plants per household. Though the proposed bill grants provinces a considerable amount of power and flexibility, Canada's fast-track to legalization worries some provincial officials.
"We do support medicinal uses of marijuana, but we also know that there's going to be some significant issues that arise as a result of legalization from a recreational perspective … not only with respect to impaired driving but with respect to a whole host of other issues," Saskatchewan's justice minister Gordon Wyant recently said.
Trudeau has made it clear that until a law is passed that legalizes recreational marijuana, possessing or selling the drug remains illegal. "Until we have a framework to control and regulate marijuana, the current laws apply," the prime minister said last month. March saw a number of raids on dispensaries in Toronto, with authorities arresting a number of marijuana business owners, including Canada's "Prince of Pot" Marc Emery.
Some members of Trudeau's party, despite being in favor of legalization, would like to see the target legalization date of July 1 moved back. Canada celebrates its independence on that day. "I'm probably out on a limb on this one but … I don't believe July 1 should be an implementation date for anything; it is a day of celebration for the anniversary and founding of our country," Bill Blair, a Liberal lawmaker, recently told the Canadian press. "I don't think that's an appropriate date."