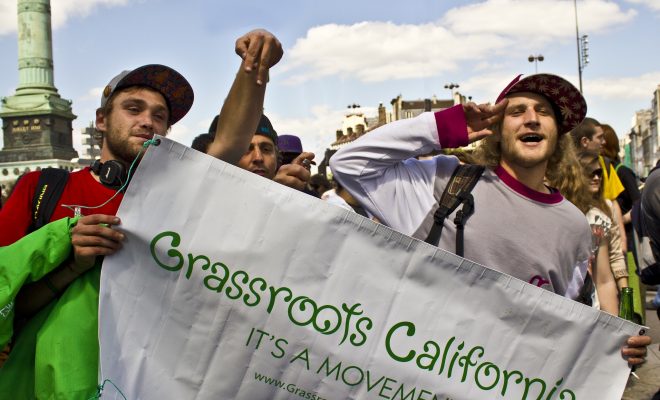 Image Courtesy of Rémi Noyon; License: (CC BY 2.0)
Cannabis in America
Could California Become a Sanctuary State for Marijuana Businesses?
By
|
A bill introduced last month in California would bar state agencies from cooperating with federal law enforcement in cracking down on marijuana in the state. Marijuana is legal, both medically and recreationally, in the Golden State. That legalization is at odds with the federal marijuana ban and its classification of marijuana as a Schedule I substance. If the bill passes, California could become a sort of sanctuary state for marijuana growers, much like certain cities are sanctuary cities for undocumented immigrants.
Introduced by Assemblyman Reggie Jones-Sawyer, a Democrat, the bill states:
This bill would prohibit a state or local agency, as defined, from taking certain actions without a court order signed by a judge, including using agency money, facilities, property, equipment, or personnel to assist a federal agency to investigate, detain, detect, report, or arrest a person for commercial or noncommercial marijuana or medical cannabis activity that is authorized by law in the State of California and transferring an individual to federal law enforcement authorities for purposes of marijuana enforcement.
Many marijuana advocates, users, and distributors are worried that the new administration, and a Justice Department led by Attorney General Jeff Sessions, will harshly enforce the federal ban. Sessions has made incendiary remarks about marijuana–"good people don't smoke marijuana," he once said–but he also signaled enforcement won't radically change under his watch. He recently said that the Cole Memo, an Obama-era directive to prioritize state marijuana laws over the federal prohibition, was still "valid." But a handful of California lawmakers are not taking their chances; the proposed bill is a pre-emptive defense mechanism in case Sessions does step up enforcement.
To Donny Youngblood, the president of the California State Sheriffs' Association, the bill is "quite offensive." In an interview with the LA Times, Youngblood, the sheriff of Kern County, said growing and selling pot "is still a federal felony and we are still in the United States of America, and the state of California cannot take over the United States."
The contradictory marijuana laws in the U.S. have sowed confusion in states that have legalized the drug in some form. Archaic practices, like marijuana businesses operating on a cash-only basis, are also a result of the tension between state-level and federal laws. Twenty-eight states and Washington D.C. have medical marijuana laws in place; eight states and D.C. have passed some sort of recreational marijuana legislation. Last November, California passed Prop 64, which legalized recreational use.
For Hezekiah Allen, the executive director of the California Growers Association, the bill is meant to provide a sense of security for California's marijuana businesses. Allen, in an interview with the LA Times, said that due to the election of President Donald Trump, and the new anti-marijuana attorney general, businesses "will need to feel confident that the state will protect them from the federal government."