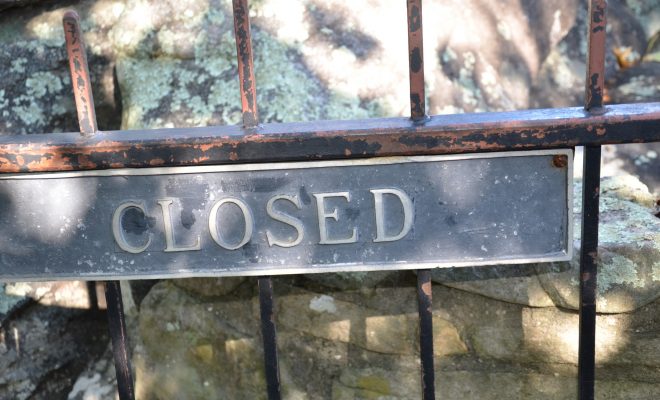 "Closed" Courtesy of amslerPIX: License (CC BY 2.0)
Schools
Whittier College's Law School Set to Close
By
|
On Wednesday it was announced that Whittier College's law school–located in Costa Mesa in Southern California–will be discontinuing its program. As the school's board of trustees announced on Wednesday, Whittier would not be accepting a law class for Fall 2017.
As the Los Angeles Times reported, the school's spokeswoman Ana Lilia Barraza said that the school will develop a plan to ensure that students who already enrolled will finish their degrees. According to the National Jurist, most schools in Whittier's situation file for something called a "teach out" with the Department of Education, which would allow for a school that is closing to help enrolled students finish their programs while not losing certain federal loan options. However, Whittier has not yet begun the  process for filing for a teach out.
The reason for Whittier Law's closing looks like it may be due to a mix of factors including its discouraging post-grad employment numbers amongst its students, its shockingly low percentage of students who pass California's bar exam, and its rapidly decreasing admittance rates. According to the Orange County Register, Whittier law school graduates who found full-time employment in 2015 was less than half the national average, the percentage of first-time takers of the California bar exam was almost 40 percent less than the average among other law school campuses in the state, and over the past couple of years, the small school has seen its number of admitted students drop from 1,579 students admitted in 2013 to 934 in 2016.
The closing will make Whittier Law the first American Bar Association accredited law school to shut down in three decades, according to the Los Angeles Times. "We believe we have looked at every realistic option to continue a successful law program" reads an official message from the chairman of the Whittier Board of Trustees. "I appreciate the gravity of this decision and its impact on the lives of all those who belong to the Law School community."