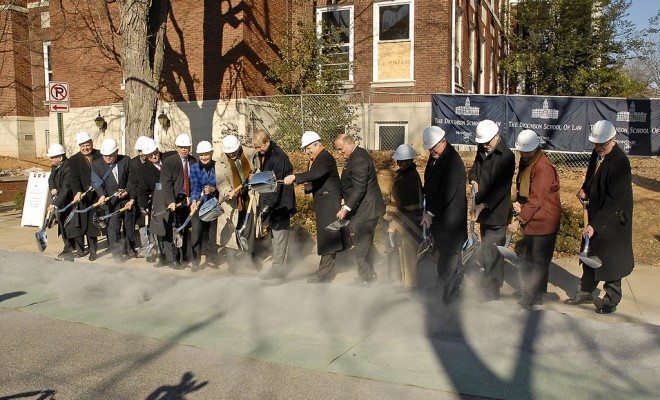 Schools
Law School Disruptor of the Week: Penn State's Two Law Schools
By
|
In 2013, the Pennsylvania State University Law School proposed splitting up its program into two separate, specialized schools–the Dickinson School of Law and Penn State Law. That plan has finally been approved by the American Bar Association and will be moving forward in 2015. Though the school's law program had already been geographically divided between the State College and Carlisle, PA campuses, this change will establish two independently accredited law schools that are both still affiliated with Penn State.
After about a year of ABA review, the approval came with only a few, not-so-academic, suggestions. The ABA board actually offered construction and logistics advice, such as a suggestion to move the admissions office from the ground floor to the first floor, improving accessibility. In an interview last week, Interim Dean Gary Gildin remarked that he welcomed the constructive ideas from the ABA Board as an outside perspective that has had extensive experience with the creation of new schools.
The decision from the ABA was pretty unique. Unlike the accreditation of other new law schools, which typically includes a two-year probationary period, both of Penn State's schools received "full and immediate" accreditation, according to Interim Dean Gildin. Back when Penn State originally chose to operate on two campuses, the ABA gave both accreditation. Therefore, the separation was not a very difficult process.
Both separately accredited schools will offer three-year J.D. and graduate law degree programs under The Dickinson School of Law of The Pennsylvania State University, and will draw on the unique location opportunities of each campus. What will be known as Penn State Law, located on the State College campus, will allow students to collaborate with the many different departments of Penn State's liberal arts, science, education, nursing, and business schools. The Dickinson School of Law in Carlisle will retain its name but will use its proximity to Washington, D.C. and the Penn State Hershey Medical Center to focus on government and health care specialties.
Under Penn State's old "one school, two campuses" theory, students were offered identical first-year curriculums at both campuses. In the following years, students had the option of continuing at their original campus or moving to the other in order to access different opportunities like special clinics or classes. While switching will become more difficult, the campuses will still be well connected. Penn State has long boasted how both campuses are connected by highly advanced communications technology. This has given them the ability to host audiovisual telecommunications between both locations; a characteristic that the interim deans have promised will stay the same even after the split.
This plan has seen little resistance from law societies, students, and faculty, despite the fact that each school will have a different dean and administration. According to my interview with the two interim deans, the catalyst for the split came from their appreciation of the rapidly changing legal market. According to Interim Dean James Houck, in recognition of rapidly declining admissions across the board, Penn State's law program endeavored to "most effectively deliver what we have to offer students." Dean Gildin explained that the separation of schools will be like a form of "home-rule." Each one will have the opportunity to be more nimble, agile, and reactive.
It's easy to see the merit in producing two more specialized schools that can easily adapt to the fast paced, constantly changing legal job market. Currently, there is just one administration, so any alterations or amendments must be checked and cleared between two different campuses. This "two schools" plan, which will begin in 2015, creates more independence for each program. And rather than being forced to find a academic middle ground between two schools, each program will be able to let its strengths shine.
This is yet another attempt among law schools across the nation to solve their waning enrollment statistics. While some schools like the Charleston School of Law are being bought out by corporate, for-profit, conglomerates like InfiLaw, others like Penn State are devising innovative alternatives. Not only is Penn State retaining its individuality in the face of a downturn in the law school market, but it is actually distinguishing itself in an industry that is definitely in need of such creative ingenuity.
—
Erika Bethmann (@EBethmann) is a New Jersey native and a Washingtonian in the making. She is passionate about travel and international policy, and is expanding her knowledge of the world at George Washington University's Elliot School of International Affairs. Contact Erika at staff@LawStreetMedia.com.
Featured image courtesy of [Penn State via Flickr]