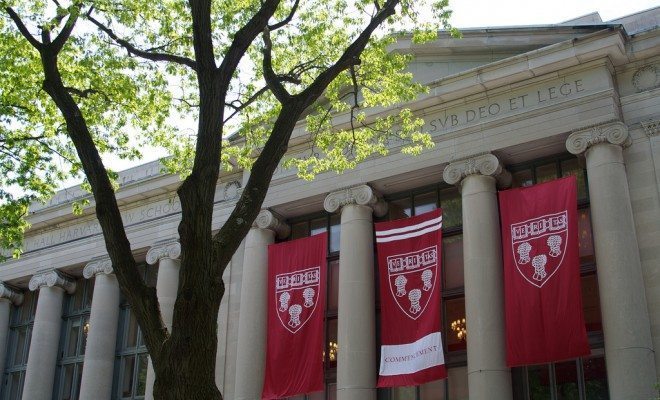 Image courtesy of [NKCPhoto via Flickr]
Schools
Harvard Law School Launches New Systemic Justice Project
By
|
Professor Jon Hanson of Harvard Law School has set out to change the way law is taught. This spring, the professor welcomed roughly 50 students into the inaugural Systemic Justice class at Harvard Law. The class will teach students to examine the common causes of injustice in history and explore ways to use law and activism to make positive changes.
From the first day of the term, it became clear to students that the new class was unique. Referring to the students in the class as a "community," Professor Hanson came across lighthearted and funny, cracking jokes and even asking the class to come up with a name for said "community." He said to students on the first day of class: "None of us really knows what 'systemic justice' is—yet you're all here."
Traditionally, law students enter law school expecting to master existing law and to learn how to apply those laws to jobs as attorneys. However, a survey revealed that students are actually most concerned with big, unsolved social issues–which is where this class comes in. Students believe that law is part of the issue when looking at social problems such as climate change, income inequality, and racial bias in policing. The goal of this class is to introduce a new approach to examining and dealing with these issues.
This class is just one facet of a new Systemic Justice Project at Harvard, which is led by Professor Hanson and recent law school graduate Jacob Lipton. The project arose out of a growing recognition that law students need to be trained to be problem solvers and policy makers. Another part of the program is a class called the Justice Lab, which is a think tank style class designed to ask students to analyze systemic societal problems and propose solutions from a legal perspective. In April, students from both classes will attend a conference alongside experts to discuss their findings.
In some ways, this project is part of a widespread effort to introduce a greater policy focus into law schools. For example, Stanford Law School recently launched a Law and Policy Lab that tasks students with finding policy solutions to real-world problems. After graduation, many former law students will go on to become policy makers, judges, politicians, and organizational leaders. According to Sergio Campos, a law professor at the University of Miami and a visiting professor at Harvard, those lawyers could be in trouble if they do not develop a background on policy during their time in law school. He worries that for those students,  "when you get to a position where you can change the law, you don't have a background on policy and what it should be."
The program has already gained popularity with students at Harvard who are, or desire to be, active in fighting for social causes. However, not all law students are interested in learning about policy–some just want to learn about existing law, and that's fine too. This project is designed to be a way to extend a traditional legal education, not replace it. Even so, participating in a class such as the Systemic Justice class can give law students a new and valuable perspective that will strengthen their overall legal education.