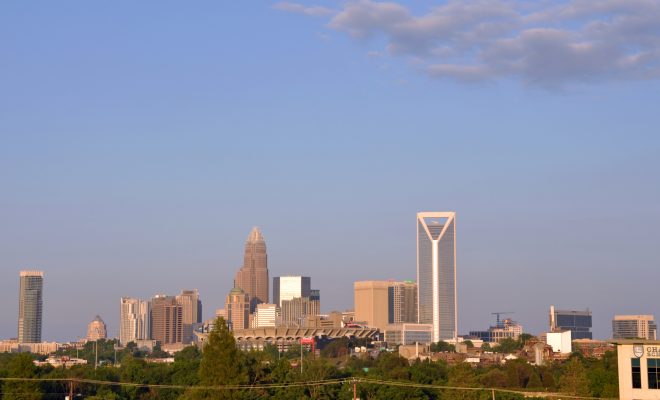 Charlotte, North Carolina Courtesy of James Willamor License: (CC BY-SA 2.0)
Schools
The Charlotte School of Law Saga Continues: North Carolina AG Investigates the School
By
|
Charlotte School of Law has had a rough couple of months. Last November, the school was placed on probation by the American Bar Association for low test scores and lax admissions policies. A few months later, the federal government withdrew its financial aid to the school's students, as part of an Obama Administration crackdown on for-profit schools.
Now, the state of North Carolina is opening an investigation into the school, POLITICO has reported. According to a spokeswoman for Attorney General Josh Stein, state officials are "investigating the school under the state's civil consumer protection laws."
Whether or not the school will remain open is still uncertain. During the fall semester, there were 716 students enrolled at the school, a number that has dropped to about 220 since the government announce it would stop granting loans to students.
President Barack Obama's administration began targeting for-profit higher education in 2015, in an effort to make sure colleges and universities don't attract students by misleading them about how much money they will earn after graduation, only to leave them in debt from steep tuition prices. In one of its earlier measures, the Department of Education required colleges to start monitoring their graduates' debt, earnings, and jobs.
Charlotte is now looking to President Donald Trump's administration in hopes that it will be able to reclaim the money it lost. The Department of Education recently urged the school to re-apply for funding, in spite of criticism from Stein. Secretary of Education Betsy DeVos has a reputation for supporting for-profit educational organizations.
The school landed on the ABA's probation list in the fall after receiving criticism for low bar exam passage rates and a pattern of admitting students that were unqualified or unlikely to succeed. In January, the DOE announced that current and future students at the school would no longer be eligible for federal aid, after the school's leaders and education department officials failed to agree on a plan to address its issues. Charlotte refused to implement a "teach out" plan that would allow students to continue their studies at a different accredited institution. Such a system would have required the school to close permanently.
In late January, more than 150 students filed lawsuits against Charlotte in an effort to win back the money they had spent on tuition and recover damages for the shortage of job prospects they faced.
Charlotte is the first accredited school to lose its access to federal aid. InfiLaw, the corporation that owns the school, also owns Arizona Summit Law School, which was placed on ABA probation for similar reasons in March.