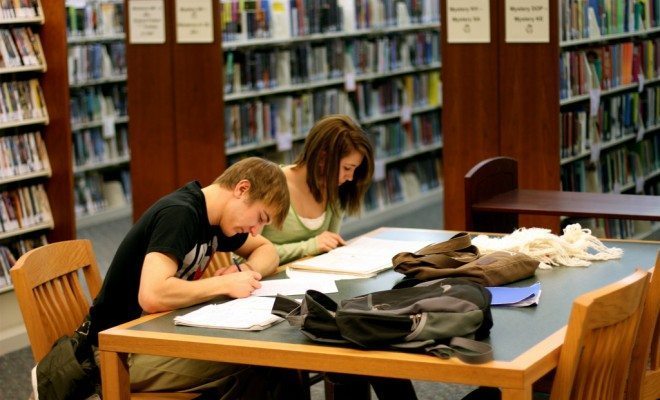 Image courtesy of [Lester Public Library via Flickr]
Schools
Can You Become a Lawyer Without Going to Law School?
By
|
Every year, eager, bright-eyed students enter law school with the hopes that in about three years time, they'll be able to call themselves lawyers. Going to law school seems like a natural and crucial step for anyone that hopes to have success in the legal field. However, this was not the path that Marcos Camacho took–he became a lawyer in 1986 without taking a single law school course.
Camacho earned entry to the bar in California, one of the only states that allows students to "read law" and study as an apprentice under a veteran attorney. The program is called the Law Office Study Program, which is a three-year program run by the State Bar of California. At its core, the program involves a great deal of reading and self-teaching. In addition, students gain valuable hands-on experience as paralegals working on real cases. Rather than sitting in class every day and taking exams, students in this program learn the law through practice. While this concept may seem unconventional, it is actually very similar to the way that Abraham Lincoln became a lawyer.
Now, I'm sure that many of you are thinking the same thing right now, "a way to become a lawyer without paying hundreds of thousands of dollars for law school tuition? Sign me up!" However, it's not that simple. This type of program requires extremely self-motivated individuals, because at the end of the day, you need to pass the bar exam whether you went to law school or not. There are no exams or deadlines–there is nothing to keep you on track or reinforce the material you are reading.
Camacho had the self-motivation to make the most out of this program, and passed the California bar exam on his first try. In 2002, he went on to become general counsel for the United Farm Workers Union, which at the time was headed by the late Cesar Chavez. Then in 2009, Camacho went into private practice in Bakersfield.
Just this past Christmas Eve, California Governor Jerry Brown called Camacho to inform him that he had been appointed to a judgeship on the Kern County Superior Court. Camacho considers this appointment to be a "tremendous honor," and stated that he was "floored" when the governor called him and said that he had been appointed. According to the newly-appointed judge, he considered applying for a judgeship back in 2011 but decided against it when his wife of 20 years, Eva, was diagnosed with cancer. Unfortunately, Eva, who Camacho considered to be his biggest supporter, passed away the following year.
So while "reading law" worked for Camacho, how practical is this path? Are we likely to see people today foregoing law school and still becoming successful? At the moment, the only states to even offer such programs are Virginia, Vermont, Washington, and California. New York, Maine, and Wyoming offer programs that combine apprenticeships with law school. This is one of the several reasons that this path remains underpopulated. According to the National Conference of Bar Examiners, only 60 of the 83,986 people who took state or multi-state bar exams last year were law office readers.
In addition, finding someone that is willing to take responsibility for educating a new lawyer is no easy task. A major obstacle in choosing this path is that none of the states that offer this program provide any guidance or resources to help prospective law readers locate a supervising laywer that is willing to take someone on for an apprenticeship. All of the work must be done by the prospective student.
Additionally, bar passage rates for law readers are poor. Only 17 law readers passed last year, or 28 percent of the law readers that took the exam. When compared to the 73 percent of students that passed after graduating from institutions recognized by the American Bar Association, that does not scream success. Robert E. Glenn, who is the president of the Virginia Board of Bar Examiners describes these programs as "a cruel hoax." He said of apprenticeships–"it's such a waste of time for someone to spend three years in this program but not have anything at the end."
However, there are upsides to these "law reader" programs. The first, and most obvious, is the lack of debt for students. While many law schools are making efforts to lower their tuition, law school is still a huge investment. Many today are questioning the value of a three-year legal education when considering the cost. An apprenticeship is an alternative that makes a legal education affordable and available to a more diverse population, which could be beneficial to underserved communities.
Without loans to pay back, lawyers won't have to chase positions in big-name firms with big paychecks. Instead, they could focus on working in nonprofit, environmental, and community law. According to Janelle Orsi, the co-founder of the Sustainable Economies Law Center in California, "attorneys trained in this way will be able to be average people."
While this may be appealing to some, it is not for everyone. Considering how competitive the legal field is today, passing the bar and securing a job at a top law firm seem to be on the forefronts of most future-lawyer's minds. As a result, it is unlikely that we will see a rise in "legal readers" anytime soon.