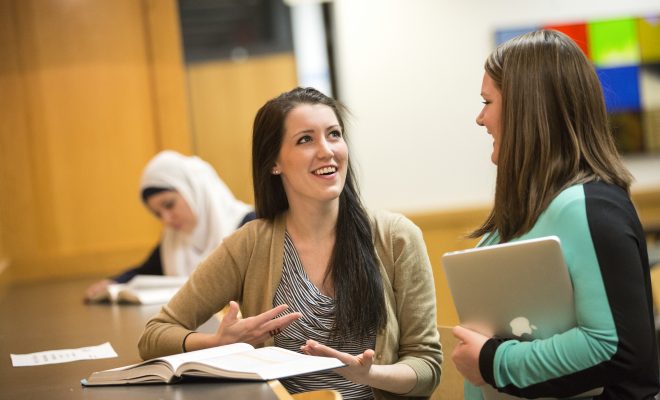 Image courtesy of University of Nebraska College of Law
Schools
How to Find the Best Value Law School for You
By
|
Sponsored Content
Each year, tens of thousands of law school students graduate, take the bar (or choose not to), and look for work. But law school is not cheap, and it's no secret that a lot of students take out massive student loans in order to finance their education. According to the most recent data from the American Bar Association, average debt for a student who attends a private institution is $122,158, and average debt for a student who attends a public law school is $84,600.
But that doesn't mean that if you want to go to law school, you're automatically signing yourself up for a life of paying back loans. There are ways to lower that bill, significantly, and it all starts with choosing the right law school. Check out our guide on how to find the best value law school for you.
Here are the questions that you need to be asking yourself as you look for value in a law school:
How much does it cost?
This is the basic one–how much do the tuition and fees cost? This is where any prospective law school student should start. This information will be available on a school's website, or you can use a site that aggregates it, like U.S. News & World Report, to compare tuition and fees.
Seems simple, right? But there's more to how much a law school "costs" than just tuition and fees. Cost of living for a particular area also needs to be taken into account. There are cost of living calculators that you can use, or you can work it out by hand, but it's important to acknowledge that things like rent, food, gas, and so many other life necessities require budgeting with your limited law school funds. And where you live can make that budgeting easier, or it can make it harder.
Some schools make it easy to find this kind of information and compare different options. For example, the Nebraska College of Law offers a helpful page that breaks down the different kinds of costs you could have as a law school student, so you can see them all at once.
What does student loan debt look like at that school?
So, you've figured out what you can afford. How are you going to pay for it? Most students take on some amount of student loan–for the law school class of 2015, 78 percent of students who attended private schools had student loan debt, as did 77 percent of law students at public schools.
And all that cost comes at, well, a cost, at almost every level. At the macro level, there's evidence to suggest that this influx of student loan debt isn't good for the economy. But it hurts individuals too–studies have shown that a majority of millennials have put off buying homes and saving for retirement because of their high levels of debt. And for young lawyers particularly, student loan debt can restrict them from taking jobs and opportunities that they're passionate about.
But keep in mind that those numbers are just the averages for public and private schools–the number of students with loans varies by school, as does an equally important metric: how much those student loans are. Like cost of tuition and fees, that information is readily available, and can offer insight into how much the school costs overall.
How well prepared will I be for life after law school?
You've decided on a law school, and you've figured out a way to pay for it, but that doesn't mean it's time to pack your bags quite yet–you also need to make sure that you're going to be in a good position to make money after law school. Two good things to look at are bar passage rates and employment rates for the schools that you're considering. You also need to look at the quality of jobs being obtained–are they legal jobs or are they in other fields? The ABA publishes this data for accredited law schools.
It's also worth considering what kind of opportunities you'll have while at law school. Ask yourself questions like: What types of opportunities does the school provide for you to work with real clients on real cases. Do they offer clinics or externship experiences? Do you want to get adventurous? Do they have a study abroad program or do they place students internationally? What types of resources does the school offer/provide to help you secure employment after law school? If you're not happy with the answers to any of those questions, maybe it's worth considering a different school.
What else do I get out of this law school?
Life isn't just a mathematical equation though, and choosing a law school shouldn't be either. There are lots of things you need to consider when determining if a law school is the right fit for you, like the size of the incoming class, or what specialty programs the school offers. For example, Nebraska Law offers an innovative, one-of-a-kind space law program–if that's a specialty you're interested in, or if there's another specific specialty you're interested in, it's worth considering whether a school can offer you a leg up in that field. Consider other non-tangible measures too–like the size and reach of an alumni network, the workshops and resources that will help you develop your professional skills, and the connections you can make with professors.
So…What's Next?
What's next is up to you–you now have the tools to find the best value law school for you, so put them into practice! To understand what this looks like, look no further than Nebraska Law 1L Megan Heinzinger, from Illinois, who revealed how she put these concepts to work herself. She explained what she was looking for in a law school:
Selecting a law school with high bar passage and job placement rates was very important to me, as it is to many students. I also sought to find a school with low tuition, that would afford me the opportunity to be more selective in my job search after graduation. [The University of Nebraska College of Law] boasts both impressive student statistics and offered an unmatchable tuition rate. Moreover, [Nebraska] has an notably extensive network that facilitates placing students in jobs around the country and world. This was important to me, being that I plan to return to Illinois after graduation.
And she explained that she was attracted to Nebraska Law from a financial standpoint, saying:
I knew that by attending [Nebraska Law] I would graduate with significantly less debt than I would have at any other school I had applied to. The affordable tuition paired with Nebraska [College] of Law's competitive edge was virtually unbeatable. The low cost of living in Lincoln was also an attractive draw.
In short: law school doesn't have to cost an arm and a leg. You can find the best value law school for you–just follow these simple tips.