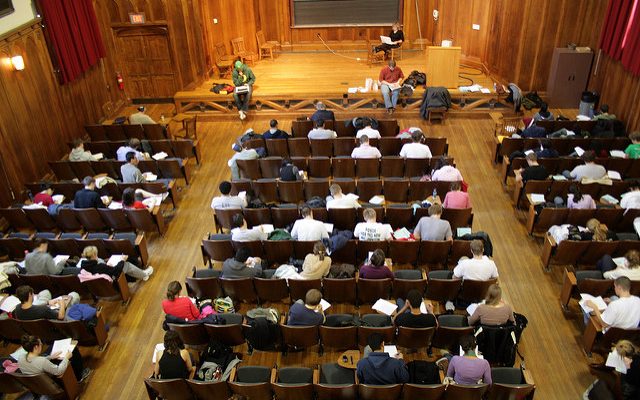 "Final exam" courtesy of Sage Ross: License (CC BY-SA 2.0)
Schools
ABA Will Consider New Bar Passage Requirements for Law Schools
By
|
Despite criticism from law school deans across the country, the American Bar Association will meet on February 6 to discuss a proposal that would establish stricter bar passage requirements for school accreditation.
The proposal mandates that 75 percent of an accredited school's graduates must pass the bar within two years of graduating. But deans have opposed the measure over concerns about California's declining bar passage rate and diversity within the profession.
More than 90 deans signed a letter from the Association of American Law School's Dean Steering Committee on January 13, asking for a year to review the proposal before the ABA's House of Delegates considers it.
That period of time, they wrote, would allow them to understand how the measure might affect a school's accreditation. In California, where the state bar passage rate has dropped from 56 percent to about 43 percent over the last three years, a handful of schools could lose their accreditations.
The letter notes:
The California bar results, if they become the 'new normal' for graduates of ABA-accredited law schools in California, could potentially imperil the accreditation of a very large number of law schools–law schools whose history and profile have demonstrated over many decades an ability to educate successful law students by any reasonable measure.
The letter also included concerns about diversity. More difficult standards could keep minority students–who, on average, score lower on the Law School Admission Test–from being admitted to schools if officials fear they won't pass the bar.
Most of California's law school deans, a handful of deans from law schools with connections to historically black universities, and the deans of Harvard and Yale law schools all signed the letter.
At the same time, the ABA risks losing its authority to accredit schools if it does not pay greater attention to student achievement. In June, the National Advisory Committee on Institutional Quality and Integrity urged the Department of Education to suspend the association's accreditation power for one year.
The ABA's Council of the Section of Legal Education voted to adopt the proposal's requirement changes in October, but the proposal must still pass through the House of Delegates. If they approve the new rule next month, it will apply to graduates taking the bar exam this July, part of a broader Department of Education crackdown on accreditors.
In a January 19 statement, the council's managing director Barry Currier said, "There is no reason to delay the effectiveness of this new standard," which he said the council has been discussing and revising for several years. "The fact remains that to become a lawyer in a jurisdiction, a law school graduate must pass that jurisdiction's bar exam. The standard that the council adopted holds schools to meeting graduates' expectations in the jurisdictions where the school's graduates choose to locate," Currier said.
He added that the council would continue working with state supreme courts, bar examiners, deans, and diversity groups to ensure diversity and fair exams. He also said the new standard "is not at odds with any of those concerns and objectives."