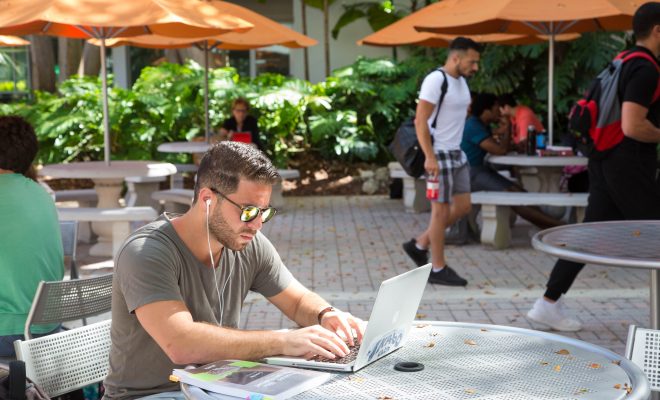 Image courtesy of Joshua Prezant for Miami Law
Law
What Does it Take to Become an Entertainment, Arts, or Sports Lawyer?
By
|
Sponsored Content
Do you read every article you can find about the Tidal lawsuits? Are you fascinated by the legal effort to recover art stolen by the Nazis during World War II? Do you have strong feelings about the legal side of "Deflategate?" Do you want a legal career that's dynamic, fast-paced, and challenging? If you answered yes to any or all of those questions, a career in Entertainment, Arts, or Sports law may be something to consider.
These specialties incorporate a wide range of legal disciplines, including IP and Copyright law, Contract law, and Labor law. And without the behind-the-scenes work of the lawyers who specialize in these fields, our favorite music, TV shows, movies, sports, and art would be unrecognizable. So, how do you get started? The University of Miami School of Law, home to the unique Entertainment, Arts, and Sports Law LL.M program, has the answer. Read on to learn more.
A Primer on Entertainment, Arts, and Sports Law
First things first: what are we talking about here? These fields, while distinct, are certainly related. But it's still important to understand some of the nuances.
What is Entertainment Law? 
There's no set-in-stone definition of exactly what Entertainment law constitutes, but in many ways it involves the application of legal concepts to real world problems. Entertainment lawyers deal with a myriad of legal issues arising from the entertainment and performing arts industry, including TV, movies, radio, theater, and publishing. It can include anything from working on contracts for performers or employers, to filing trademarks, confronting First Amendment issues, and dealing with lawsuits involving those in the entertainment industry. According to Miami Law:
Although entertainment lawyers might represent 'talent,' such as directors, actors or musicians, they more often advise companies that produce and distribute entertainment content, license celebrity brands, purchase and sell motion picture or music publishing catalogues, raise or invest debt and equity capital, and purchase and sell companies engaged in one or more of such activities.
Entertainment law is fast-paced and multi-dimensional, and can incorporate many legal questions that a lot of us probably don't even think about on a daily basis. For example, imagine some of the legal issues that go into creating a movie:
Actors, writers, and workers on the movie will need contracts to be negotiated. The presence of unions–for example the Screen Actors Guild–may also mean that labor law considerations are in the mix.
Music used in the movie will need to be properly licensed.
Marketing materials for the movie, including catchphrases, may need to be trademarked.
Say the movie involves a "real life story" or biography–an attorney may be needed to deal with any defamation lawsuits that arise.
This list is by no means dispositive, but it goes to show that there are a lot of moving parts that go into what we see as final products in entertainment–and many of them require lawyers.
What is Arts Law?
Like Entertainment law, Arts law exists at a large intersection of legal issues, largely focused on the creation, ownership, and business of art. Intellectual Property law plays a large part–as art depends on the creation of unique work–but Estate and Property law, Contract law, Torts, and other areas factor in as well.
According to Miami Law:
Today, art lawyers work in law firms, museums, auction houses, and financial institutions. Works of art are bought and sold, implicating issues of good title and authenticity; loaned from museums to galleries and other museums, implicating insurance and contract matters; travel internationally for both commercial and private purposes, implicating international treaties and customs laws and regulations; and are often important assets in decedents' estates, implicating tax and estate planning concerns. An art lawyer must be able to navigate this complex terrain of legal concepts and practical strategies.
Let's look at an example, like we did with Entertainment law. What might you need to consider if you're providing legal counsel to an artist?
Contract law comes into play if the artist wants to be represented in any galleries.
The artist may be able to receive royalties if their art is used for commercial purposes, or if someone uses the artist's art without their permission, intellectual property rights could protect them.
Artists sometimes become involved in performance art as public protests–First Amendment considerations may be at issue.
If any of those hypothetical issues piqued your interest, maybe Arts law is a discipline that you would want to consider.
What is Sports Law?
Sports law, like its Entertainment and Arts law counterparts, also sees a mix of legal principles and factors. Sports lawyers can represent players in the sports industry, including professional and amateur athletes, venues, organizations and teams, and companies that work with athletes or teams.
According to Miami Law:
Sports lawyers usually require knowledge of various areas of law including: contracts, labor, antitrust, tax, intellectual property and media law. To represent sports industry clients, a lawyer also needs strong contract negotiation and drafting skills in addition to an understanding of the arbitration process. Other areas of law, like immigration, can also come into play for foreign athletes and international leagues or clubs.
Let's try our "day in the life" exercise with Sports law. Let's say that you represent a team. Here are some questions that could come up:
You'll be needed to draft contracts for the athletes who join the team.
In the cases of international athletes, you may need to deal with Immigration law to ensure that they are able to work in the United States.
If an athlete gets injured in the course of a game, he may sue the organization he's playing for.
A team's logo and mascot can be trademarked, and you may need to deal with infringing uses on unlicensed merchandise.
Needless to say, there's no guarantee that any given sports lawyer will deal with those exact issues. But it's important to note that Sports law, just like Entertainment law and Arts law, requires lawyers who enjoy working in an unpredictable and quickly evolving field.
---
You've Convinced Me–I want to be an Entertainment, Arts, or Sports Lawyer. Where do I start?
Miami Law's LL.M in Entertainment, Arts, and Sports Law can help you make that dream a reality. The program is designed for working lawyers who want to narrow their focus on one of these specialties or students who have already received their law degrees abroad. An LL.M can provide the leg up you need in a competitive environment. The clients you'll represent–whether it's an actor, artist, athlete, venue, or company–need to know that you have the wide breadth of legal knowledge to help confront whatever problem they run into. A focused LL.M could make it clear that you have that expertise.
---
Why Miami Law?
Miami Law's LL.M program offers some unparalleled perks to get you on the right track.
Location, Location, Location 
Miami is a vibrant, bustling city that serves as an epicenter for entertainment, art, and sports. Miami is home to a number of entertainment production companies, including Telemundo, Univision, HBO Latin America, Viacom International, Sony, and BBC Latin America. The art scene in Miami features many galleries and museums; the city has traditionally been known for its art deco flair. And don't forget–Miami is home to the Miami Heat, the Miami Dolphins, and the Miami Marlins, in addition to countless amateur and college teams.
Connections are Key 
Who are some Miami alums in the fields of Entertainment, Arts, or Sports law? Take, for example, Horacio Gutierrez, class of '98. He now serves as General Counsel for Spotify, one of the fastest-growing music streaming services in the world. In the field of Sports law, Dennis Curran is a Miami Law alum, class of '75. He currently serves as the Senior Vice-President and General Counsel for the NFL Management Council, which represents the 32 teams in the NFL. And Professor Stephen K. Urice, the Director of the Arts law track, comes from a background in arts and museum law–at one point he directed the national culture program at The Pew Charitable Trusts. Miami Law's faculty, staff, and alumni can help you bridge the gap between your education and getting involved in the job of your dreams.
Hands-On Experience
Miami Law provides its LL.M students with unparalleled hands-on experience. Each of the three tracks–Entertainment law, Art law, and Sports law–requires a practicum component that will give them experience in the field. For example, Maria Jose Rivera, a student in the LL.M program, is completing her practicum requirement at the NBC Universal Telemundo. She describes her work as a fall legal intern to the Telemundo Network with Music Affairs, saying:
I want to get to counsel and represent television and motion picture productions in all legal aspects. Whenever I walk into a studio set, I get thrills by seeing it and hearing in all in real life. I see the drafting of agreements as creating the safeguards to making those audiovisual productions come strong from a legal standpoint.
And she described her experience with the LL.M program as a whole, saying:
The program has helped me get there by not only placing me into the real practice but by granting me the privilege to work with and learn from these role models I look up to professionally. I'm drafting and negotiating agreements for the first time while being challenged to develop the skills that are in demand when becoming an effective lawyer in the entertainment industries.
So, are you ready to make a change, and work on something you're truly passionate about? Consider Entertainment, Arts, or Sports Law. It's a growing and exciting field, and it's time for you to take the plunge.
Resources
Primary
Miami Law: LL.M. in Entertainment, Arts and Sports Law
Miami Law: Entertainment Track
Additional
LexisNexis: Researching Entertainment Law
ABA: What Is Sports Law and Who Is a Sports Lawyer?
Lawyers for the Creative Arts: Legal Issues in Film Production