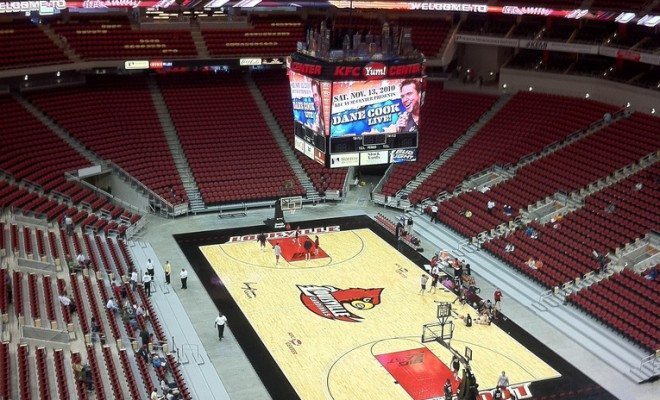 Image Courtesy of [Jason Meredith via Fickr]
Sports
Ex-Escort Claims Louisville Coaches Paid for Recruits' Strippers & Escorts
By
|
It really isn't looking good for the University of Louisville Cardinals' basketball team after former escort Katina Powell aired out their dirtiest laundry in her new book "Breaking Cardinal Rules: Basketball and the Escort Queen." Powell, 42, claims that from 2010-2014 Cardinals' coaches used her and her girls to recruit players with illicit stripper dorm parties, where they paid dancers to have sex with the recruits.
In the book, which was compiled out of four years worth of Powell's personal journal entries, she claims that she did "everything to make those guys sign," and even felt like she was part of the recruitment team.
Continuing coverage today of our exclusive local interview with Katina Powell @WHAS11 @WHAS11Tabnie pic.twitter.com/73IdSIqNfu

— Renee Murphy (@WHAS11Renee) October 20, 2015
Shortly after the book's release ESPN's "Outside the Lines" launched its own investigation into the "sex party" claims and uncovered evidence that seemingly supports Powell's assertions.
Watch the ESPN interview below  
The interview was chock full of juicy, salacious material, but here are the five most important facts you need to know.
1. Andre McGee allegedly orchestrated the parties
Former Director of Basketball Operations and graduate Assistant Coach Andre McGee was the alleged "point person" for all of the dorm stripper parties that took place in U of L's Billy Minardi Hall. Powell claims that McGee asked her if some of the dancers would have sex for money. In her interview with ESPN's Powell said,
He asked me, 'Is there any girls that want to make extra money,' pretty much a side deal with the players. … So I asked the girls and their eyes lit up like, 'Well, yeah.

[…]

I just knew 'Side deals' were sex, and if they [the dancers] wanted to make extra money, that's what the 'side deal' was, sex.
2. Players who supposedly had sex with dancers are being named
Powell outed former Louisville recruits JaQuan Lyle, Antonio Blakeney, Jordan Mickey, and Terry Rozier as all having had sex with dancers during their recruiting visits. She also claims that two former Cardinals players who made it to the NBA were also involved. She named Memphis Grizzlies point guard Russ Smith and Houston Rockets power forward Montrezl Harrell as having had sex with her daughters Lindsay Powell, 24, and Rod Ni Powell, 22, respectively.
3. Katina pimped out her own daughters
Opps, did I forget to mention that she pimped out her own daughters?
Her three daughters were paid to strip and have sex during these parties. But she made a point to mention that they were all at least 18 when they were first paid for sex. Great job mom.
4. Recruits are backing up her story
ESPN found five former Louisville basketball players or recruits who asked to remain anonymous, who are corroborating her story. One recruit who eventually signed to play elsewhere said, "I knew they weren't college girls. It was crazy. It was like I was in a strip club."
5. Coach Rick Pitino claims this is news to him
Many are wondering whether or not Cardinals Head Coach Rick Pitino knew anything about these parties. Powell, however, is pretty sure that he did, saying, "I said, 'Does Pitino know about this?' And he said, 'He's Rick. He knows about everything.'" As of now Pitino has no plans to step down, and is directing all blame on McGee, but the blowback from this scandal could easily make him the next casualty.