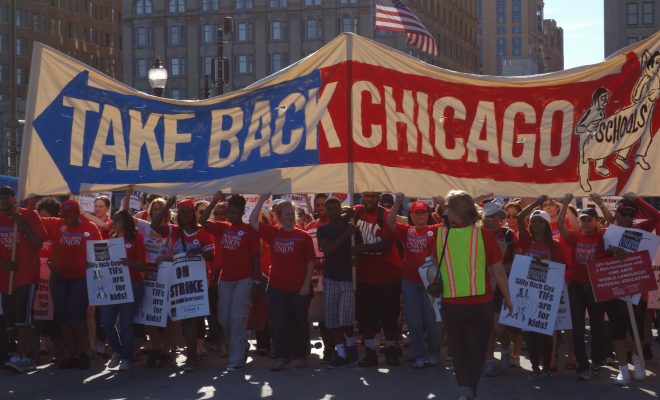 Image Courtesy of [Shutter Stutter via Flickr]
Education
Strike Stricken: Teachers Union and School Board Reach Agreement in Chicago
By
|
Minutes before midnight on Monday evening, many teachers in Chicago breathed a collective sigh of relief: there would be no strike, and their classes would go on as planned on Tuesday. After over a year of testy negotiations, the Chicago Teachers Union (CTU) struck a four-year contract with the school board. While it won't officially be cemented until it's ratified by the CTU's House of Delegates and voted on by members, the agreement staved off a looming strike, which could have kept over 300,000 Chicago students out of school.
At a press conference after the deal was reached, and following 12 hours of discussions, CTU President Karen Lewis said the agreement is "good for kids, is good for clinicians, is good for paraprofessionals, for teachers, for the community."
For Chicago Mayor Rahm Emanuel, the last minute consensus was a welcome refuge during a politically turbulent time. The relationship between Chicago residents and police officers has frayed under his leadership, and a strike, which would have been the second CTU strike of his tenure, would have been fuel for the flames.
"Chicago Public Schools' finances will be stronger and on firmer ground because of this agreement," Emanuel said at a post-midnight press conference. "Parents and taxpayers will be relieved, and more importantly, reassured, that we all came together to work together with a common purpose."
The contract includes a pension pick-up for teachers, a key concern for the union; a promise to cap classroom sizes for kindergarten through second grade; and millions of dollars in funding to help offset cuts to teacher salaries and a number of school services.
Both sides narrowly avoided what would have been the second strike of Emanuel's six years in office. The first came in 2012, when the union and the board wrangled over the previous contract. That strike lasted seven days.
Union members were preparing for a strike in the hours leading up to the midnight agreement. They picked up materials–shirts, twine, and signs–at designated areas around the city, and were instructed to strike outside of their schools at 6 AM on Tuesday. A union strike is legal, according to Illinois law, only if more than 75 percent of members authorize abstaining from work. According to the union, 88 percent of members agreed to the Tuesday strike.
Negotiations were successful, however, ensuring students could go back to school, teachers could go back to work, and Emanuel, for the time being, could escape another political fallout.