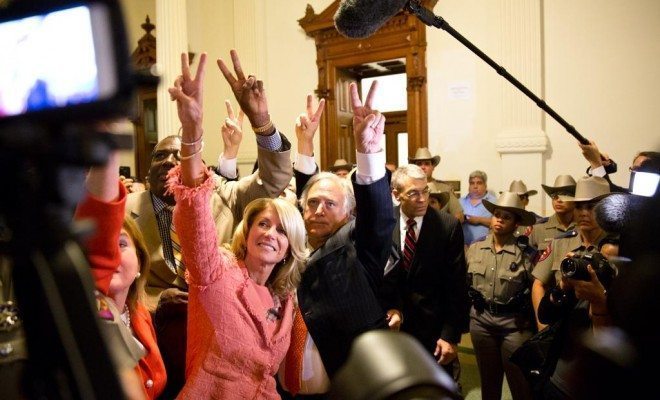 News
Texas Senator Wendy Davis Leads Successful Filibuster
By
|
Sporting her pink sneakers, Sen. Wendy Davis spoke for over ten hours straight in her successful filibuster against a Texas abortion bill that would be one of the most restricting of its kind.
The bill would severely cut access to abortion clinics across Texas and make an abortion after 20 weeks of pregnancy illegal. Before the filibuster was carried out in its entirety, Davis' speech was disqualified for going off topic three times. As the Dems. stalled, the crowd of opponents rose and chanted "Shame! Shame! Shame!" in a successful attempt at delaying the process. The efforts of the protesters and Davis' 11 hour filibuster successfully stopped the bill for now.
Gov. Rick Perry has called for a second special session in order to pass the abortion bill. The session began July 1 at 2:00pm and could last a month. Though the bill is expected to pass the Republican-dominated legislature, Davis is confident that it is not over yet, now that the whole nation is paying attention.
[Full Article: New York Times]
Featured image courtesy of [The Texas Tribune via Flickr]